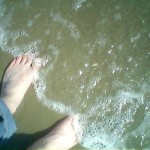 I have recently completed my presentation, Creating Connected Teachers, along with Peter Gow, Jason Ramsden, Demetri Orlando, Sarah Hanawald, and Derrick Willard at the National Association of Independent Schools (NAIS) Annual Conference. All and all, I am pleased about the way that the presentation went, but I think that there are areas which we could improve.
Focus less on tools and more on how the tools have changed peoples lives. More personal anecdotes so that people connect with passion and emotion.
Focus more on group conversation. We had planned this, but a 60 minute session turned into 90 minutes, so something had to be cut.
More concrete ideas on next steps. We did a reasonable job of this, but I would have like the participants to share more of their thoughts. We spent too much time modeling what we are trying to change, rather than modeling the change ourselves.
That said, however, initial feedback was that participants found the workshop to be valuable and worthwhile. As one participant noted:
The ideas I have gotten from this workshop have paid for the workshop itself.
I realize that part of this assessment is because over the past five years, I have worked to cultivate my network for my learning. Not everyone is where I am. As a matter of fact, many people have yet to dip their toes in the water.
So all in all, a great start to the experience. I am glad I was asked to share.
photo credit – Boris Anthony – Pacific Ocean (http://www.flickr.com/photos/32373689382@N01/12226086)