Explorer Hall of FameThis year, our ninth and tenth grade history teachers are revamping and reshuffling their curricula. Because they are changing the content and the way that they are delivering the material, they are also rethinking each of the units that they are teaching.
Later in the year, the sophomores will be working on a term paper. Tim Curren (tcurren@nscds.org), our World History II teacher, wanted to create an assignment that would re-introduce students and provide students an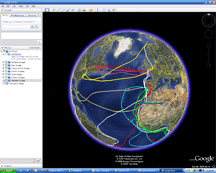 opportunity to practice the the skills that they will need to complete for the term paper, researching, note taking using NoodleBib, and using a variety of resources, both print and electronic. Hence the genesis of this project.
In this project, Tim asked students working in groups of two, to research the voyage of one of the world's explorers. Students were assigned either Dias, da Gama, Columbus, Magellan, Drake, Hudson, or Cartier. They were given a week to collect their data, mostly outside of class for homework.
Instead of a traditional paper, Tim and I worked with the students to create a Google Earth Tour. Using Jerome Berg's model of creating a Google Lit Trip, students had to locate the locations of their facts and create annotated place markers for their assigned journey. The student teams then had to create the path of the journey taken by the explorer. Lastly, the students were asked to create an audio tour for each explorer. This project taught students how to organize their data and create an organized collection of points.
Attached to this post is the Explorer Hall of Fame, the research projects which were the best of the best. They are student projects and we have incorporated them as is. There may be a few spelling and grammatical errors that we left in order to acknowledge that this is student work.
Once you load the file into Google Earth, you will be able to turn on (check) or turn off (uncheck) one of the trips. Upon openingExplorer Hall of Fame the explorer's folder, you can access each of the research points or double click on the tour to take the tour that the students created.
The most difficult part of the project was in saving. If you did not click on on the outer folder, you only saved the item which was highlighted.
Enjoy and use this as you wish.
(10 mb kmz – Google Earth file)