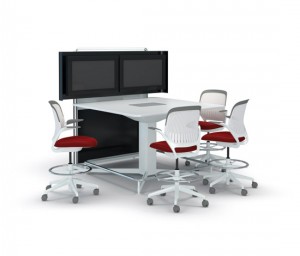 We are in the midst of planning for a potential renovation of our high school, beginning as early as this upcoming June. I have been asked to sit in many meetings with the architects discussing what the new learning studios will potentially look like. One of the solutions that they have proposed is implementing Steelcase's media:scape (see picture on right) workstations in a collaborative  learning studio and in project spaces which are adjacent to three learning studios on one of our floors.
This system works by pulling a "puck" which connects to the video out port of your computer system. By hitting the puck, you can select your screen's display to appear on the large monitor. We tested this system with a Tablet PC, Macintosh, and PC laptop. It worked seamlessly.
Last Wednesday, I took the opportunity to work with three seniors and the Steelcase media:scape demonstration unit set up in one of our large conference rooms. To a person, each of the students thought that the system was "cool". They were so impressed that they wanted to continue to work with it Thursday and Friday. I asked each of the students to share how they thought this system could have been used to enhance their educational experience at North Shore. Here are some of the replies that I got:
Quick exchange of evidence during a debate, such as the ones held in US History, AP US History, and International Relations
Switching between PowerPoint Presentations in multiple classes
For showing graphs and working equations for Math class
Using a tablet to write and share notes
Quickly change between videos on different student's computer for the documentary presentation, such as done in English 11
Compiling student's research data
For teachers to see what their students are working on.
White board presentations for Physics
StoryCorps presentations for US History
For showing strategy as a coach to team members
Additionally, I believe that it could be used to:
For working on a shared Google Document so that eveyone can see on a larger screen
For brainstorming project ideas and presentations, like are done in the 9th Grade Service Learning Projects in English and History
To facilitate group work on a project such as the Google Earth/Explorers Project
Culminating group research project which is currently undertaken in the Freshman Seminar class.
Additional thoughts on where these systems may be helpful and we may want to seed their use would be:
In the Learning Specialists spaces.  It would benefit our learning specialist to be able to pop up an individuals computer screen on the larger display, while working with groups of students. Also, there are times in which they are working with students on a same project, so it may be beneficial for students to learn from each other at the same time.
I can also see this as being beneficial to place in our library. Our library is becoming a hub for classes of Middle School and High School classes working on group projects. Most of these projects do have a computer component. Just today, the seventh grade was working on a textbook chapter, in groups of four, sharing research. Working together on a unit such as this would have encouraged a new way to exchange ideas.
With the new space, there is planned to be a cafe-like space. I am hoping that I can move my office to the middle of this cafe, with one of these units, as my primary workspace. This would provide the opportunity for teachers and students who are having problems, to connect to the system and "puck" their display up, so that it can be more easily seen by the group and that we can troubleshoot.
I think that the benefits of this system are great. Like all other emerging technologies, it may be beneficial to strategically seed these systems in some places and drive some early adopters to use them. Once others begin to see the benefit of these systems, it will help drive demand of these systems.