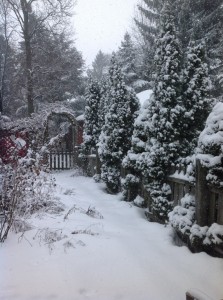 When I was much younger, there was no day better than a snow day. There was anticipation when you finally heard your school closing announced on the radio or having gotten the phone call from the school. The break from routine was always cherished. There were snow forts to build, snowball fights to have, igloos to construct, mini-boblsed runs to create, or ponds to shovel so you could go skating.
Once inside, after a steaming cup of hot chocolate with mini-marshmallows, there were Legos to build, sport simulation games to play, and non-school books to devour. Even while not in school, I will argue that I accomplished as much learning during these days of free exploration as I did in a similar day of school.
Today, I have the benefit of enjoying a snow day. While I have been catching up on household chores and errands left undone after a hectic week, I hope to be able to carve out some time for pure exploration. I will be spending the afternoon playing and exploring Minecraft in advance of our first after-school session next Monday. Later, I will tinker some more with my Arduino to learn more, shopping for a Makerbot, and then  I will spend time immersing myself in the 2013 Baseball Prospectus I purchased last night while watching the Chicago Blackhawks game. Thank you Barnes and Noble for being open later than 9 pm.
I am hoping to recapture some of joy of unscheduled time. It promises to be a great day.