Today, I was interviewed by Cary Harrod, the Instructional Technology Specialist at the Forest Hills School District near Cincinnati, Ohio. Her question was why shifting to 21st Century Learning practices was important. I shared my vision of why it is important: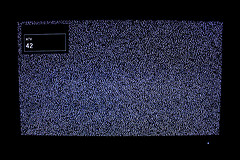 Our goals as educators is guide our students through experiences that will help them learn how to craft and tell their story, in the medium of their strength, whether it be sculpture, dance, text, video, or audio, in such a way that it rises about the white noise of distraction and allows them to be identified, acknowledged, and heard.
So too it should be our goal as educators is to learn to craft our story and examine our message to make sure that it rises about the white noise vying for student's attention.
Thanks, Cary, for reminding me of this all important reminder.
photo by Jason Stanley – http://www.flickr.com/photos/92215392@N00/4512518616